Contact Pam Bailey, Director of Bedford County Office of Economic Development for a site tour.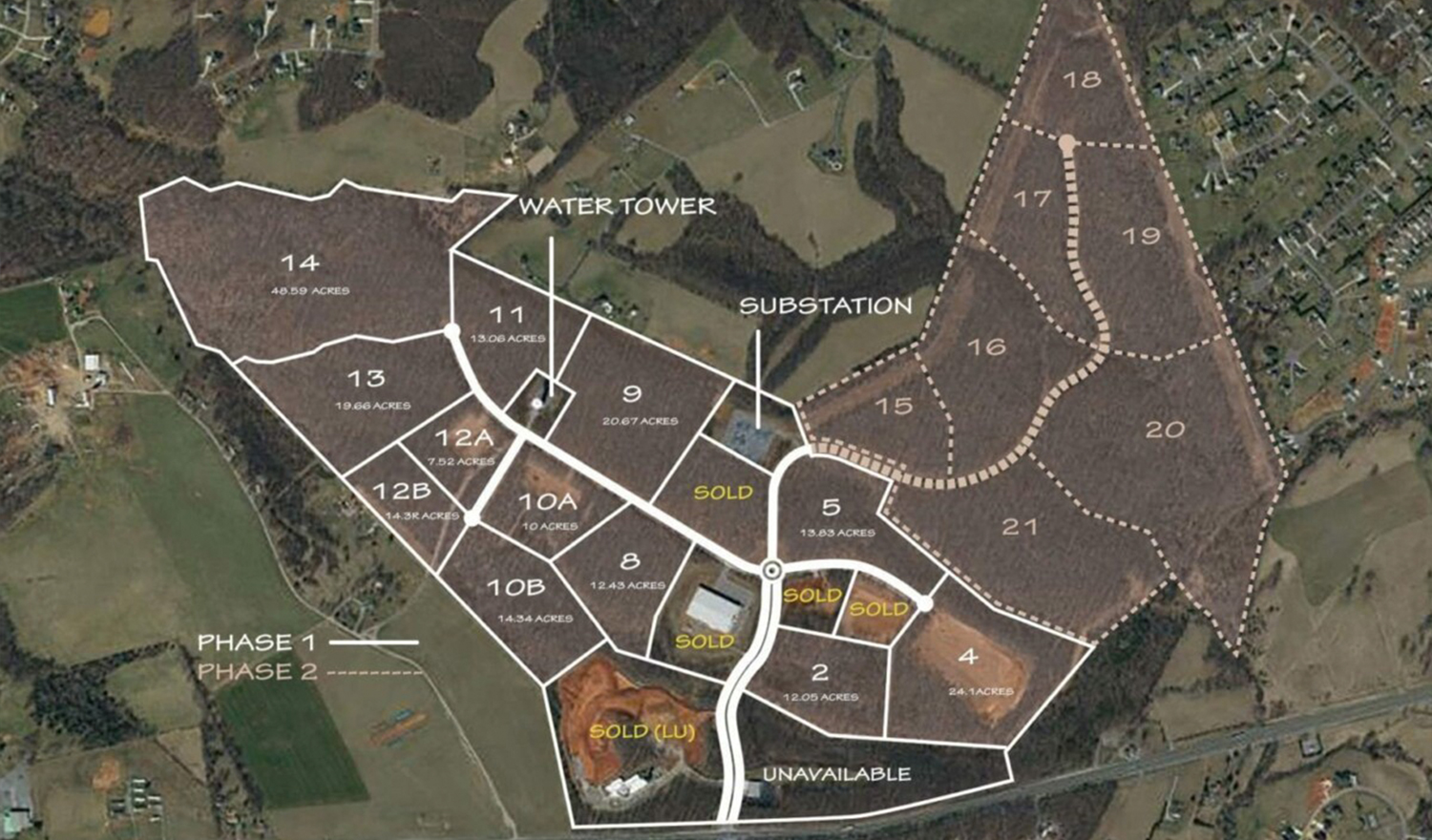 The New London Business and Technology Center is a 500-acre development owned by the EDA that combines modern day technology with environmentally friendly sites and nearly seven miles of walking/biking trails throughout the park, PLUS a Paul McBeth designed championship-level disc golf course. Several cleared and graded lots are available. Although the center's focus is technology, a wide variety of business uses are welcome. The park is home to Simplimatic Automation, Damage Prevention Solutions, Belvac Production Machinery, and Liberty University's 28-acre Tech campus that includes the state of the art Center for Engineering Research & Education (CERE) facility that creates a knowledge-based R&D hub for the region. Options for locating in the New London Business and Technology Center include land lease or outright purchase of lots from the EDA. Special tax incentives are available for qualifying technology companies.
With nearly 7 miles of biking/walking/running rails, the New London Tech Trails are open to all tenants in the park and the public alike. The park is also home to a championship- level disc golf course which is open to the public, as well. Several biking and running events and disc golf tournaments are held year 'round. See the New London Tech Trails site for more information.
Download the Site Information»
Location
U.S. Route-460 and Meade Road in Bedford County, Virginia
Utilities
Water and sewer throughout (Bedford Regional Water Authority)
25-kV, 3 phase electric power installed with the substation located inside the New London park (served by Southside Electric Cooperative)
Telecom fiber in place at entrance to park (Mid-Atlantic Broadband) Ductbank in place throughout open section. Other providers having fiber in place are Verizon, Shentel, and Segra.
Million gallon water storage tank in service, served by Bedford Regional Water Authority.
Robust, dark fiber infrastructure in place – secure and scalable enough to support a datacenter.
Site Data
500+ acres with buffer and walking/running/biking trails and a professional-level disc gold course.
200+ acres designated a Virginia Technology Zone
Lots ranging in size from 7.5 to 48+ acres
Lot 2 – 12 +/- acres. Accommodates up to 200,000 sf building
Lot 4 flier – 10 acres cleared and graded on 24+ acre lot.
Accommodates a 200,000 sf. building
Lots 10A and 12A cleared and grubbed – ranging in size from 7.5 acres to 10 acres. These lots are in the process of being graded.
Largest contiguous site is 200 acres (combined lots 15-21)
Individual parcels have not been recorded and can be divided as needed.
Documentation
Digital aerial photographs
Conservation easements in place
VEDP Tier 3 site
Transportation
U.S. Route 460 (frontage)
Interstate 81 north & south (35 miles/35 minutes west
Lynchburg Regional Airport (10 miles/10 minutes east)
Taxes
Real estate – $.41 per $100 assessed value
Business personal property – $1.70 per $100 value
Machinery and Tools – $1.20 per $100 value
Merchants Capital – NONE (eliminated in 2011)
Zoning
Planned industrial – allows a variety of business, research, and manufacturing users
Technology Zone with special incentives for qualifying companies.
View our videos featuring the amenities in New London Business & Technology Center park