Superb schools… for all ages.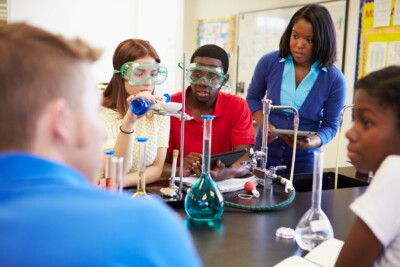 The Bedford County Public School system is dedicated to excellence in education and strives to prepare students to be productive and responsible citizens in our community and the world. With 19 accredited K-12 schools and more than 10,000 students in the system, Bedford County offers a quality and comprehensive education that students take with them beyond graduation into employment or to a number of prestigious colleges and universities.
Bedford County students have access to Advanced Placement, Dual Enrollment, Early College,  and Career & Technical Education programs. There's a Governor's School for Science and Technology for 11th and 12th grade students, also featuring a Governor's Health Science Academy. Additionally, students with an interest in health science or mechatronics may apply to XLR8 Academy a regional Governor's S.T.E.M. (Science, Technology, Engineering and Math) Academy on the Central Virginia Community College (CVCC) campus in Lynchburg. Also, Bedford County Schools offers an Internship Curriculum for seniors who want hands-on experience at a local industry, and the town of Bedford is home to the Susie G. Gibson Science and Technology Center.
CVCC's G3 (Get Skilled, Get a Job, Get Ahead) program offers tuition assistance for students living in Virginia who qualify for state financial aid with a household income that's less than $100,000. G3 is available for select programs in five of Virginia's most in-demand industries, including Early Childhood Education, Healthcare, Information Technology, Public Safety and Skilled Trades (construction and manufacturing).
Learn more about Bedford County Schools.
Learn more about regional efforts to promote science and technology in K-12 schools.
Community Colleges
Central Virginia Community College hosts a Bedford campus located within the Bedford Center for Business. With more than 130 classes serving over 500 students, this campus delivers traditional classroom instruction and web-based and hybrid courses. CVCC is an excellent education and training partner with the Office of Economic Development and Bedford area industries, offering specialized training and workforce development programs for business and industry.
An academically accelerated Early College program is also offered in partnership with Bedford County Public Schools. Qualified high school students may complete their last two years of school at the Bedford Center and earn an Associate Degree in General Studies at the same time as their high school diplomas. This program is also offered to qualified home-schooled students.
Virginia Western Community College is located in Roanoke, an easy drive from the county's mid-point to the western end. The two-year public institution offers various associate's degree programs, as well as career studies and certificate programs.
Regional Colleges and Universities
A number of excellent colleges and universities are located within close proximity to the Bedford area including Liberty University, University of Lynchburg, Virginia Military Institute, Washington and Lee University, Hollins University, Randolph College, Roanoke College, Sweet Briar College, and the Roanoke Higher Education Center. In addition, individuals may earn degrees from the University of Virginia, Virginia Tech, and Old Dominion University right from Lynchburg's Central Virginia Community College campus through distance-learning programs.