A food preservation gem in Bedford County.
The current economy has many folks thinking about growing their own produce. Why not enjoy the fruits of your garden labor during the cold, snowy winter months and utilize the New London Cannery? Many area residents are unaware of this food preservation gem available to them locally. The cannery is open to everyone, whether they live in the county or not.
The New London Cannery is located at 12404 E. Lynchburg Salem Turnpike, Forest, Virginia (behind the New London Academy at US 460 & VA 811) and is open the first week of July on Tuesdays and Thursdays only from 6 a.m. until Noon. The cannery phone number is (434) 525-9706 during the season. Please visit the cannery's website.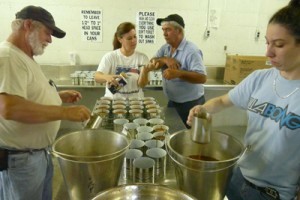 See inside the New London Cannery in this quick video tour.